Sunday, July 28, 2013 – Victoria Falls, Zimbabwe – Walk Along The Falls
We had a morning walk along the rain-forest paths along the cliff opposite the falls. Fantastic falls going into a chasm in the earth. Fantastic double rainbows! Mist everywhere, and we walked through a veritable rain forest with palms, ferns, and strangler vines and water dripping from the trees. We also saw the statue of David Livingstone at the falls.
a list of the flora and fauna we might see on our walk
Abi points out our paths in the rain forest bordering the falls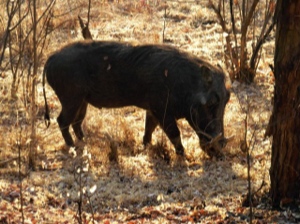 statue of David Livingstone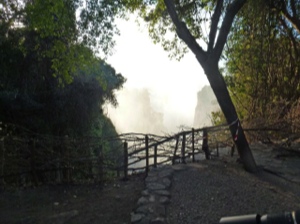 the mist which keeps the narrow strip of rain forest wet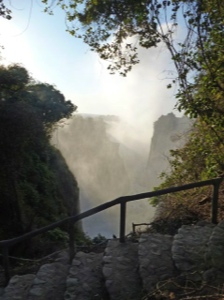 huddled in our rain ponchos we watch the falls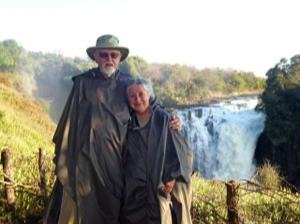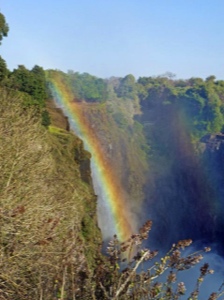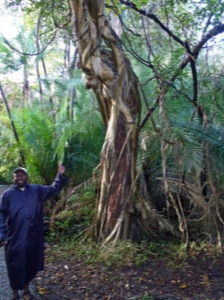 Abi points out a strangler vine taking over a tree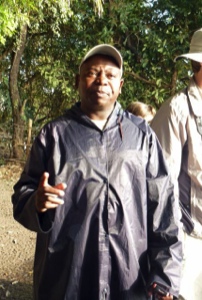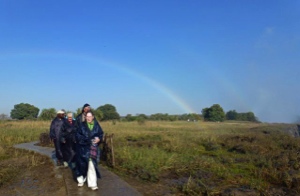 Abi Nyoni, Laura Westray, Arthur Kay, and Marian Moran are surrounded by a rainbow
another group is surrounded by a double rainbow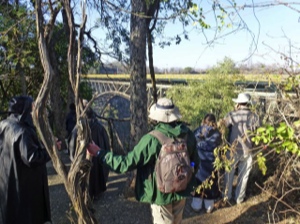 the old bridge where you can bungee jump and cross the chasm on a zip line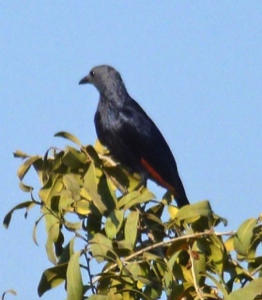 the Zimbabwe flag is on the left
Sunday, July 28, 2013 – Victoria Falls, Zimbabwe – Visit with the Nyomis
Back to the Rainbow Hotel for brunch (they really don't feed us enough on these tours!) and it was time to take the bus to the airport.

But first we stopped off in the town of Victoria Falls to visit Abi's family. His wife Loren, daughter Allwyn (b 1979), and sons Junior (b 1984), Allan (b 1989), and Leo (b 2009) live there along with a nanny, Barbara. All 7 in the family unit live in a 4-room house with a living room, 2 bedrooms, a kitchen, and a bath. Loren says they are very lucky. Among her neighbors many have 4 families sharing the same 4-room cottage. I asked how the kids slept in their little room. Loren said that the little one, Leo, sleeps with Loren and Abi in one bedroom, and the nanny sleeps with Junior, Allan, and Allwyn in the other bedroom. But I couldn't see how you would put four people in the small bedroom. Loren said that the nanny slept with Alan and Junior in the bed, and that Allwyn would lay a pallet on the floor in the tiny space that remained.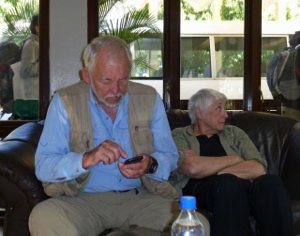 Winston Padgett (our phones work here and we have internet access!)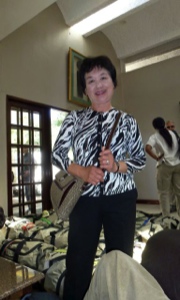 Naomi (another OAT guide), Abi Nyomi, and Janet Shi
sights as we drive to Abi's house in Victoria Falls -- not the usual tourist area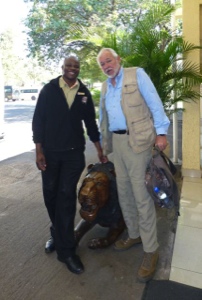 Hillary and Winston Padgett with the Rainbow Hotel carved lion
driving through residential Victoria Falls, Zimbabwe
street scene with high gutters for water run-off
Allan Nyoni, Abi Nyoni, Junior Nyoni, and nanny Barbara
Allan and Junior Nyoni welcomed us to their home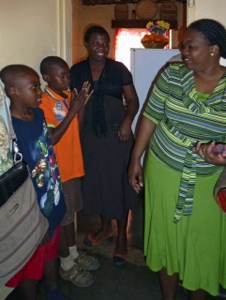 Allan Nyoni, Junior Nyoni, a neighbor, and Loren Nyoni
brothers Junior Nyoni and Allan Nyoni
a neighboring little girl
Laura Westray and Allan Nyoni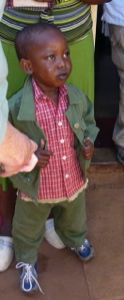 street scene on our way to the airport
street scene on our way to the airport
Sunday, July 28, 2013 – Victoria Falls, Zimbabwe to Johannesburg, South Africa
On to the airport at Victoria Falls, and we flew to Johannesburg. There was no one to meet us from OAT, but we all managed to get to our respective flights. Arthur and I flew Air France/KLM to Paris, and then Paris to Amsterdam, and then Amsterdam to San Francisco. It is interesting that on our flights to and from Johannesburg they sprayed the cabin with some disinfectant after everyone was aboard.
flying from Paris to Amsterdam