Monday, July 15, 2013 – Chobe National Park
We had a wonderful game drive in the morning. We saw many baboons and impalas. Impalas are known as the McDonald's of Africa since they have M's on their rumps and are the primary meat source for many of Africa's predators. We also saw herds of zebras and kudus, along with cattle being raised by the neighboring Namibians. We also saw gorgeous birds and a huge crocodile.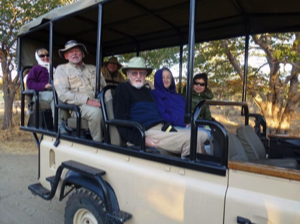 morning game drive, Chobe National Park, Botswana: Laura Westray, Winston Padgett, Ken Westray, Arthur Luehrmann, Martha Luehrmann, Janet Shi in our Land Rover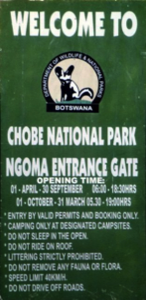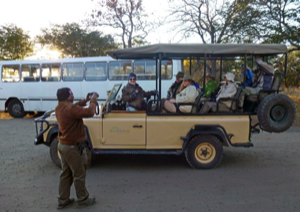 Abi Nyomi takes a picture of the group in the other Land Rover: Judith Blecha, Arthur Kay, June Kay, Marian Moran, Marilyn Herel, Monica Shephard, Scott Shephard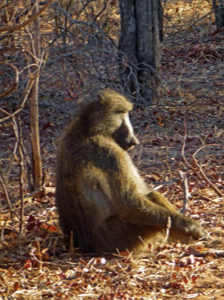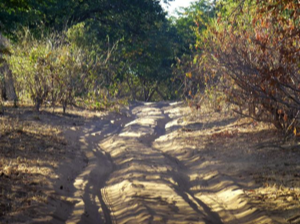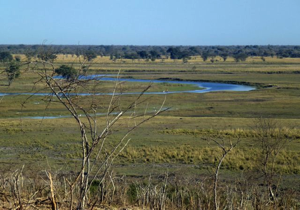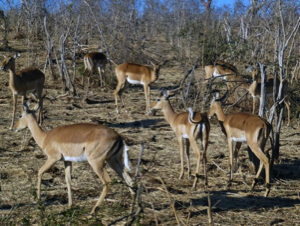 impalas, — the McDonald's of the bush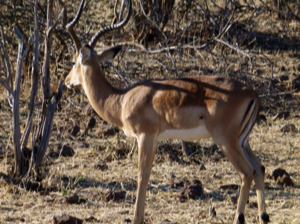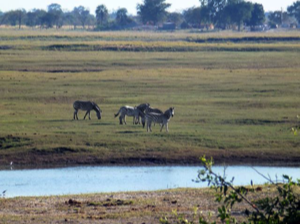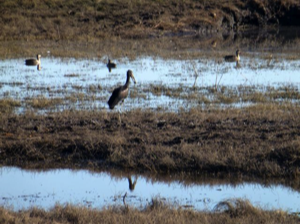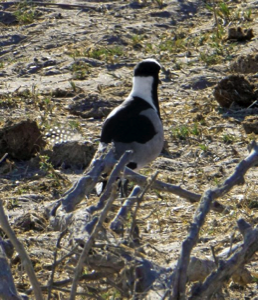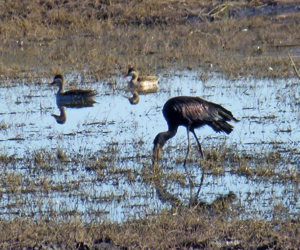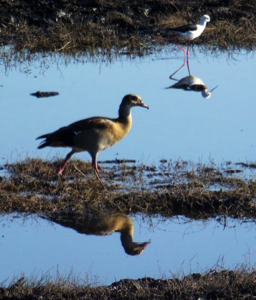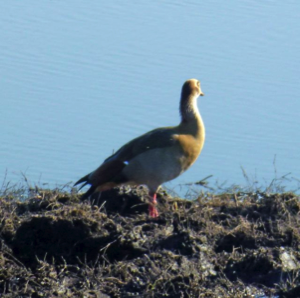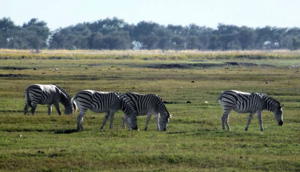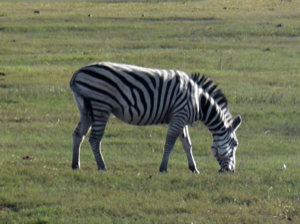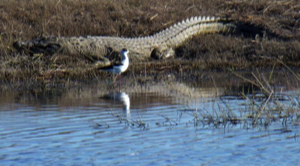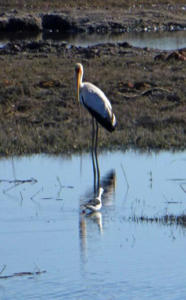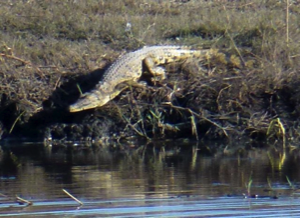 darters drying their wings?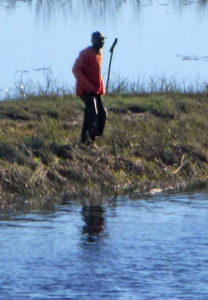 Namibian herder who is doing some fishing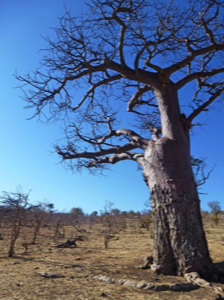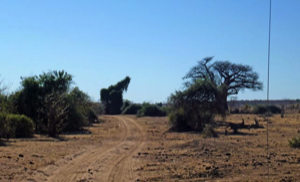 giraffe tree at the end of the road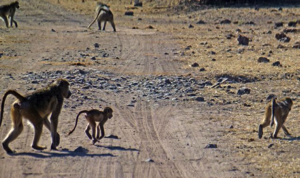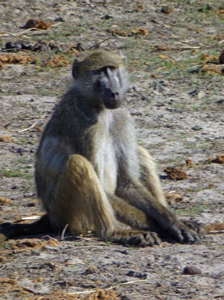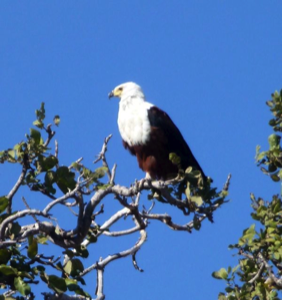 During a tea break, Abi showed us how to recognize the different types of dung. After the tea break we saw many more herds of kudus, impalas, and gnus, as well as the ubiquitous guinea fowl and a solitary warthog.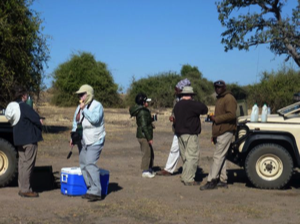 the group has a tea break
Scott and Monica Shephard, and Polly Anna Randol and Winston Padgett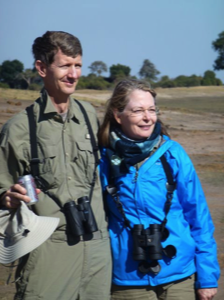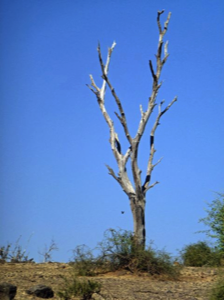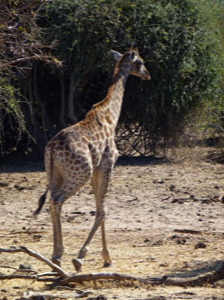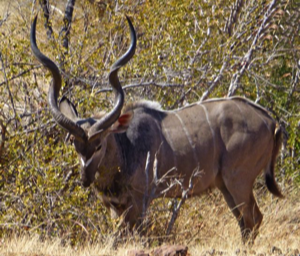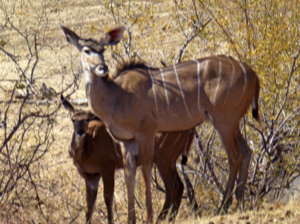 After "brunch", some ladies from the Mandela township came to show us their baskets and teach us basket weaving. Arthur bought two lovely baskets, plus a necklace and a bracelet from Ednah.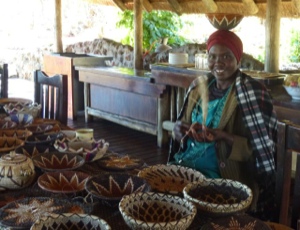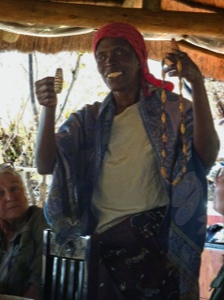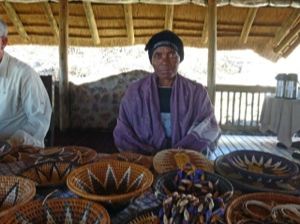 June Kay tries her hand at basket weaving
That afternoon we went on another game drive where we saw elephants, giraffes, kudus, impalas, zebras, Sable antelope, etc. We also saw the brilliantly colored lilac-breasted roller. Towards dusk we saw a leopard!
Monica Shephard tries her hand at basket weaving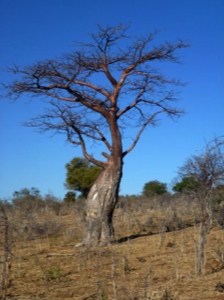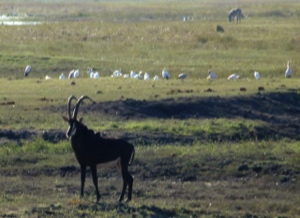 _, June Kay, Marian Moran, Arthur Kay, Monica Shephard, Abraham (Abi) Nyoni, Scott Shephard, Marilyn Herel, and Judith Blecha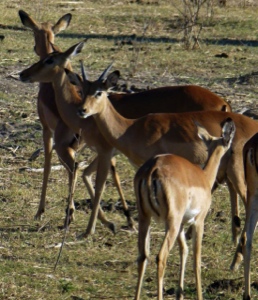 elephants showing the water line of their last bath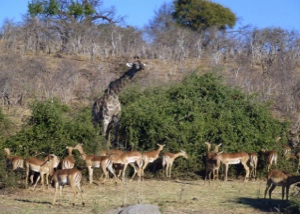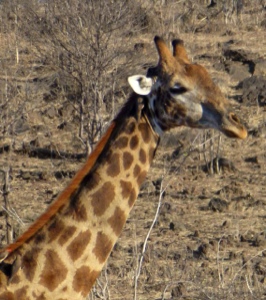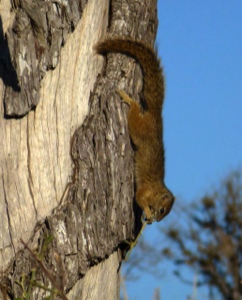 squirrel on an elephant-damaged tree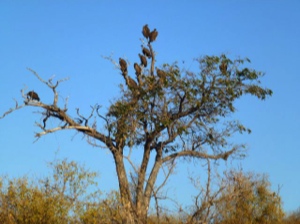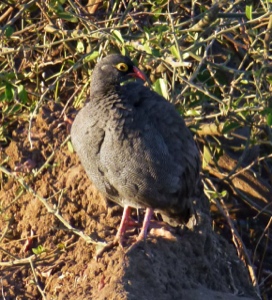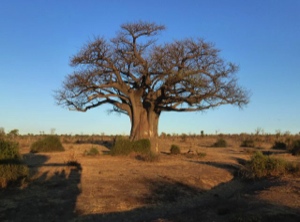 Janet Shi as Lawrence of Arabia
zebras reflected in the water