Saturday, July 20, 2013 – fly to Kafue, Zambia
This morning we flew from the Banaku airstrip to the Kasane airport near Vic Falls. Martha, Ken, Laura, and Janet took the little Cessna, while the others went in the bigger 12-passenger plane. We flew past the Great Salt Pan.
the inside of our 4-passenger plane
Kelebogile Rantaung, chef who gave me recipes to make into a cookbook at our farewell breakfast at the Moreni Wildife Reserve camp
lying from Bonoku, Botswana to Kasane, Botswana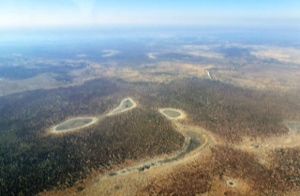 we see the Chobe River floodplains again
the Botswana flag on the left
Cessna Pilot Anton Smith with Laura and Ken Westray
From Kasane we drove to the place where the Chobe River meets the Zambezi River. That confluence borders 4 countries: Namibia, Botswana, Zambia, and Zimbabwe. We ferried across the Zambezi River to Zambia and then drove about an hour to get to the Livingstone airport in Zambia where we will take a flight north to the Kafuto airstrip. Zambia has 73 officially recognized languages plus 12 dialects, plus other un-recognized languages. For that reason, English is the official language, although people speak their own languages at home. Zambia used to be Northern Rhodesia. Zambia and Zimbabwe share the Zambezi River. At the Zambezi we bought some drinks from a 17 year-old girl with an 8-month old baby strapped to her side. Abi tells us that Zambian women carry loads on their heads and babies in a sling on their sides, while Zambian men carry loads on their shoulders. The population of Zambia is about 50M, with about 300,000 living in Livingstone. Women typically wear big squares of cloth tied at their waists that they use as slings and general coverings. The economy of Zambia is :

We had a nice drive to the Livingston airport, with our guide, Stanley.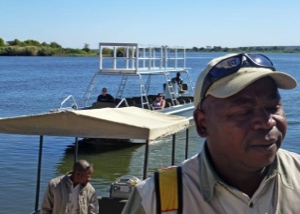 Judith Blecha and Arthur Luehrmann waiting for the ferry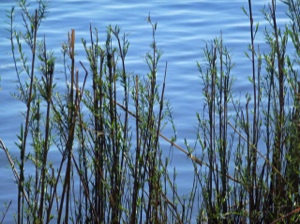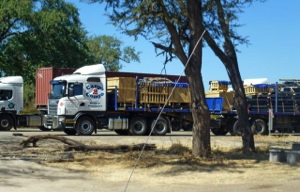 a tiny piece of the miles-long and 5 days long lines of trucks waiting to be ferried across from Zimbabwe to Zambia
a rarity, a 17-year-old girl with an 8-month baby selling soft drinks (usually girls are not allowed to sell or work outside the home in Zimbabwe)
Polly Anna Randol and Winston Padgett wait for the ferry
Zambian street -- the stones in the road are to keep people from driving or parking in that area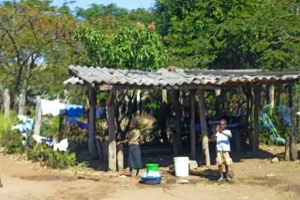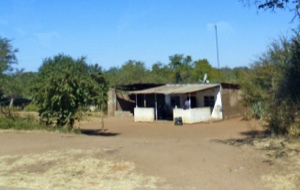 Victoria Falls University of Technology

gorgeous silver cat at the Victoria Falls airport
Flying over Zambia we saw an open pit copper mine and many small farms. They must get more water than Botswana, and they have more agricultural know-how because many of the white farmers who were kicked out of Zimbabwe were welcomed by Zambia. So Zimbabwe's farms are a bust, while Zambia's are flourishing. We are flying to the Kafuto airport from which we will drive to the Lofopa camp in the Kafue National Park.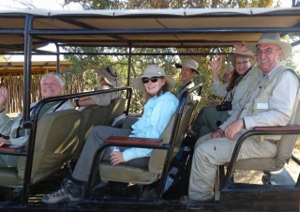 driving from the Livingstone, Zambia, airport to the Lufupa Tented Camp in the Kafue National Park, Zambia: Polly Anna Randol, Winston Padgett, Monica & Scott Shephard, Marian Moran, June & Arthur Kay
the Kafue River seen from the Lufupa Tented Camp's meeting room
Sophie Banda welcomes us with hot face towels
still life of a bowl of sausage tree fruits and _ fruits against the Kafue River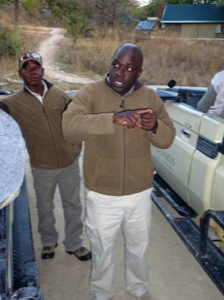 The hosts at the Lufopa camp are Robert Chitenge and his wife, Sophie Banda. Golden is one of our guides. Sophie and Robert have a 4-year-old son, a 2-year-old, and an 8-month baby. We are on the banks of the Kafue River close to where the Lufupa River flows into the Kafue. We've been told to stick close to the pathways and be on the lookout. Avoid the banks of the rivers where there are many crocodiles. There is a resident elephant, Jumbo, who is not friendly and has been known to pick up things and throw them at tourists. He is usually on the side of the camp that has cabins 4-10. Henry, the resident hippo, is also not friendly. He likes to stay near cabins number 3 and 2. There are monkeys everywhere, so we shouldn't hang clothes to dry outside our cabins.
We went for an evening game drive where we saw Ilala palms, red-necked francolins, pukus, and elephants.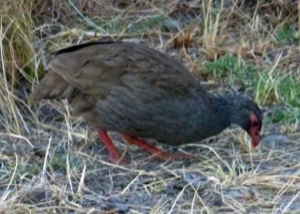 sunset behind Lala palms make a beautiful African flag