Thursday, July 18, 2013 – Okavango Delta, Botswana
After warming ourselves in front of a fire and having a quick breakfast, we set out on an all-day game drive. We saw some waterbucks, zebras, a wildebeest (gnu), and impalas. Then we came upon an older female lion calling to her pride "Hrrrhhh". Within minutes we were joined by about 7 other safari jeeps, all staring at this solitary resting lioness. We also saw black storks, and a hole where an aardvark, a nocturnal animal, spent a day recently. We even saw a pair of beautiful green and yellow birds that I think are bee-eaters. Then one of the guides spotted a young female leopard who has a cub nearby. We quietly followed the leopard for a while. We also saw elephants and a crocodile.
June Kay, Laura Westray, Marian Moran, Winston Padgett, Polly Anna Randol, Ken Westray
Okavanga waters under the log bridge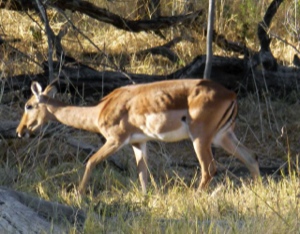 female lion calling her pride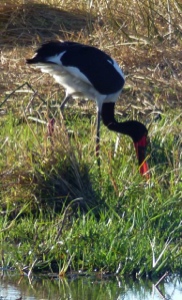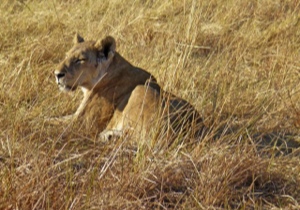 Winston Padgett, Polly Anna Randol, Marian Moran, Scott Shephard, June Kay, Arthur Kay, guide _, and tour leader Abi Nyoni checking out the lion
Janet Shi wears a scarf as a Yashmak to keep the sand and exhaust out of her face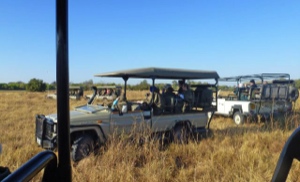 look at all the safari tourists looking at the lion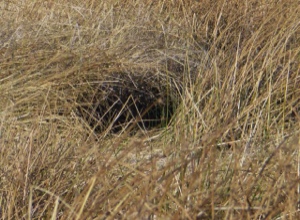 daytime resting hole made by an aardvark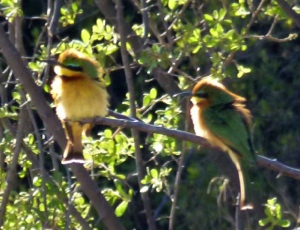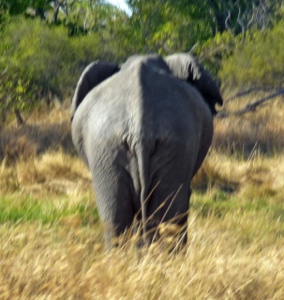 elephant giving the "African salute"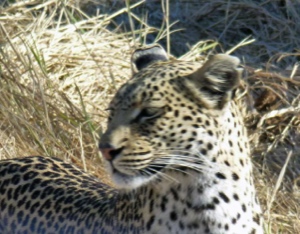 We stopped for a morning tea break and Abi introduced us to the impala spitting game. You take dried impala poop and have a contest to see how far you can spit it. This was not the game for me, but some of the group tried it.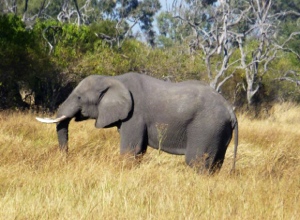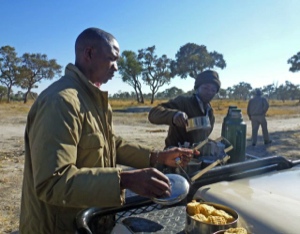 getting our morning tea break ready
Arthur Kay, Abi, June, Monica
Abi explains how to play the impala spitting game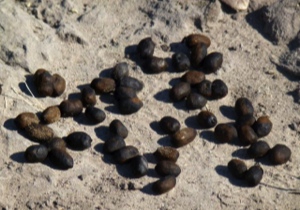 After tea-break we continued. Mr. T cut us off some twigs from the Salvadora tree (the toothbrush tree). You peel back the bark and chew the fibers underneath until the fibers separate, and then you use that as your toothbrush. It turns out that the prophet Mohammad recommended the use of the toothbrush tree for the health of people's teeth. Martha still has and uses her toothbrush twig.
We saw another leopard! It doesn't seem interested in chasing the local herd of impalas, and Mr. T said that leopards are solitary creatures and that the big cats usually feed only 2 or 3 times a week on big kills.
Mr, T cutting off toothbrush tree twigs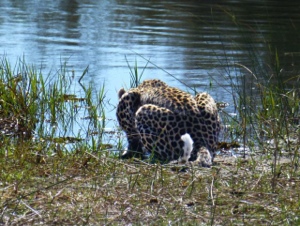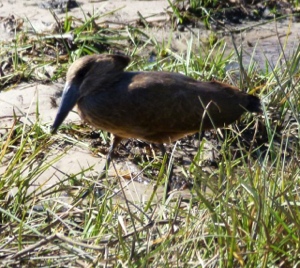 An amazing game drive! We saw hippos, elephants, lions, leopards, herons, bee-eaters, warthogs, gnus, kudus, impalas, eagles, and everything else! We saw a pride of 6 lions. The matriarch was on her own about 10 feet from us, lazing on the ground. The rest of the pride was about 100 yards away, also lazing. The youngsters were playing and pouncing on each other. The hippos went to the water. The herons stood looking for a meal. There was a huge elephant parade to the water to drink. When they got there they separated because they don't like to have to drink disturbed water. The pride of lions caught sight of a warthog upwind from them and stalked them. But they started their final sprint too early so the warthog got away. Then the lions gave up and lied down again and groomed and played.
crocodile and great egret
warthogs with impalas behind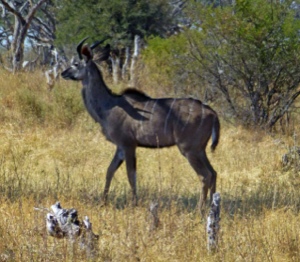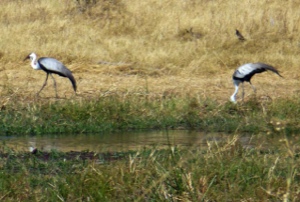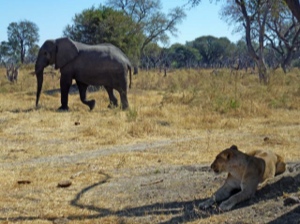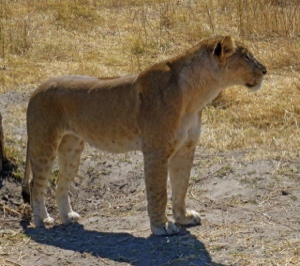 That night Abi gave us a short talk about the history of Zimbabwe. Zimbabwe used to be Southern Rhodesia. The Rhodesian Federation used to consist of Northern Rhodesia, Southern Rhodesia, and Rhodesia Nyasaland, which were all administered by the British who split them up into three separate countries.

The capital of Southern Rhodesia used to be Salisbury, and when the country became Zimbabwe, the capital was renamed Harare. The name Zimbabwe comes from the Shona words for house (zimba) and stone (mabwe). The Shona tribe comprises about 68% of the people in Zimbabwe. The Ndebele tribe, the warriors, are the second biggest tribe. Whites comprise about 3% of the people. Abraham Nyoni is from the Nambia tribe, which together with several others are about 5% of the people.
Abi talks to us about Zimbabwe
Janet Shi, Marilyn Herel, and Judith Blecha listen to Abi Nyomi talk to us about Zimbabwe
Arthur asleep under the mosquito netting